Last Sunday, I was definitely in my happy place.
I attended the second annual Taste Talks LA, an up-and-coming foodie festival, filled with chefs, restaurant owners, and food lovers. In addition to the delectable treats, ,there were simultaneous panel stages that covered everything from restaurant life, culture, and food in LA to demos of meat, pasta, and cereal. Yes, cereal.
Seriously, any event that starts with cherry brewed Nespresso coffee and tie-dye donuts from Donut Princess, and includes an all-star cookout with treats from ten different restaurants, is aces in my book.
For the All-Star Cookout, I started out with Kato Restaurant's "Surf n' Turf" Smoked Pork and Pickled Shrimp, bone kettle's Garlic Herb-Crusted Lamb Loin, Cento Pasta Bar's Sweet Corn Polenta, WOOD's Wood-Fired Meatballs, and Neighbor's Sichuan Cauliflower. I stopped to take a picture before devouring each delicacy.
Camera eats first – @neigborla #food #foodie #losangeles https://t.co/bkTZunfiOH

— Alexandra Anne Carte (@Askalacarte) October 29, 2017
MexiKosher's Watermelon and Chile Tostada came next, followed by Delicious Pizza's Delicious mini-slices, Secret Lasagna's Moo Ping Tacos with Jaew salsa, and Broken Shaker's Grilled Sweet Potato with Chile and Almond Milk.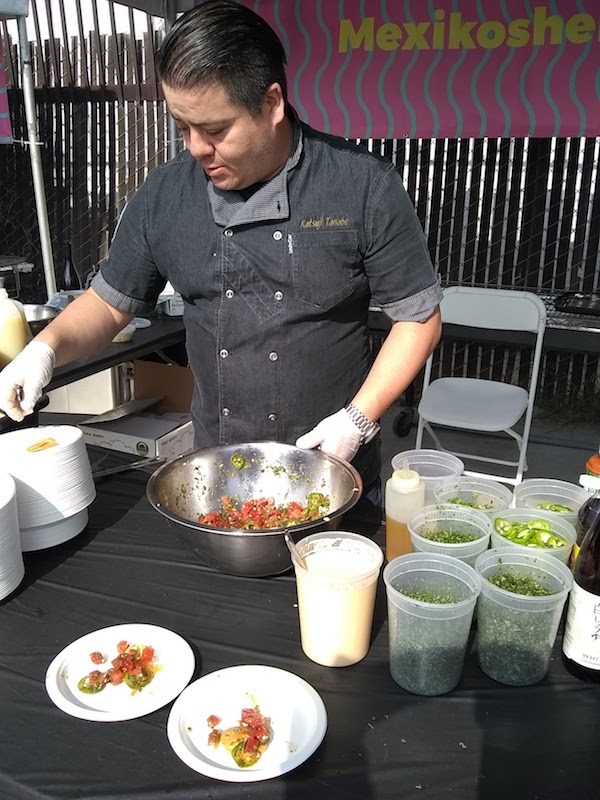 I wrapped up my "meal" with fruity Superfood Pops from Dream Pops.
Food tease. @TasteTalks #tastetalks #losangeles #Foodie pic.twitter.com/P9ptAu83KK

— Alexandra Anne Carte (@Askalacarte) October 29, 2017
These bites were perfect for a hot and sunny Southern California day. And the attendees, myself included, all seemed happy to be there. The fest was friendly and cozy, a very impressive second-year effort. Can't wait to see how Taste Talk LA  develops.
For more on Taste Talks, go to TasteTalks.com. 
Carrie Out at Taste Talks 2017