Dear Al A Carte,
I have been living in a big city for the last several years. I like it and want to stay, but neither great opportunity nor love comes my way.
Do you think l should return home?
Discouraged

Dear Discouraged,
Before you decide to leave a place that you like, be sure you have exSALMONed all of your options.
Salmon Salad
2 cans (7 oz) boneless, skinless salmon*
3 hard-boiled eggs, whites only
1 cap lemon juice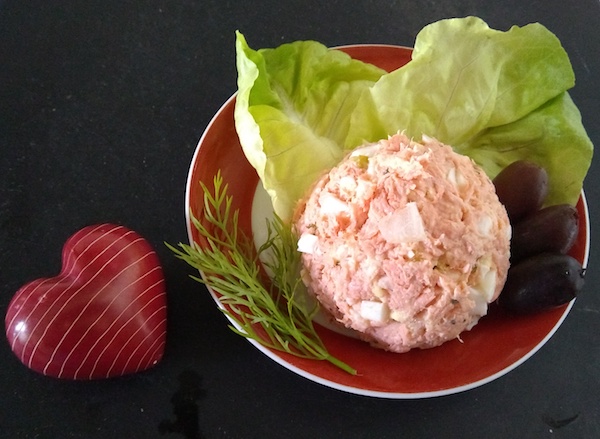 1 TBL Dijon mustard
½ cup lite mayonnaise
½ red pepper, chopped
2 TBL onion, minced
1 TBL relish
½ tsp dill
pepper
garlic
Drain salmon. Place in a medium-sized bowl, and flake. Shred or chop egg whites and add to the bowl. Add remaining ingredients. Season to taste. Mix until blended.
*I also make salmon salad from leftover salmon fillets Adjust other ingredient amounts accordingly.
* * *
Try doing things differently in order to change your present situation.
Check out Meetup.com for local events and ask friends about other groups you can join. Consider taking up a sport or signing up for a class.
Be out there. Then you can make a more educated decision.
Al A
Ask Al A Carte: Discouraged